I almost always start with a white base. It can either be a good thick cardstock or a watercolor paper. If I'll be using waterbased mediums (meaning activated with water) then I will definitely use watercolor paper. Reasons for these are 1. It absorbs and works with water better 2. There is less warping and 3. Better color saturation. 
Before even laying out the design, I play around with masks and stencils and add some amount of texture whenever possible. This is where Golden Mediums come in. Some of my favorites are Fiber Paste, Gel Mediums, Coarse Granular Gels, and Glass Beas Gels. I would have to dedicate separate posts on those mediums.
But here is an example of Golden Acrylic Mediums at work. I used regular white gesso here which was a bit watery. I needed the texture to be thick so I added a little fiber paste. Just a little of the paste made the gesso much much thicker. You will also notice some little bits of fiber texture in your medium. It does not show clearly in the picture but it looks really nice IRL.
To add the colors, I just used Pan Pastels. Now why not mists? Of course you can also use mists but if I want to be precise as to where I want the colors to be then I definitely take out my pan pastels to do the job. It does not contain moisture so it won't add more moisture to the already wet watercolor paper. I just have to let the texture paste dry completely before I rub on the pan pastels using a make-up sponge.
Splatters were from watered down metallic watercolors. I used a paint brush to water down some watercolor cakes and then flicked the brush a few inches above the paper.
MATERIALS: WEBSTER'S PAGES "PALM BEACH" COLLECTION.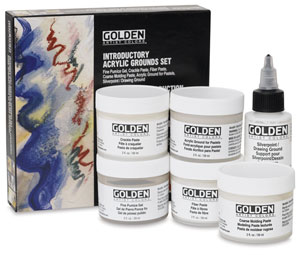 Currently at 40% off. Click on the image above.
The Golden Introductory Grounds Set was created to introduce professionals, students, and leisure artists to the versatility of Golden Acrylic Grounds. Ideal for use with wet media, Golden gels and pastes are also great when used with dry media such as colored pencils, pastels, and charcoal. This set of six grounds allows artists to experiment with Golden grounds before purchasing a large jar of something new. It includes introductory sizes of Fine Pumice Gel, Fiber Paste, Acrylic Ground for Pastels, Crackle Paste, Coarse Molding Paste, and Silverpoint/Drawing Ground.
The texture here was created using a mix of white gesso and Golden Glass Bead Gels. My mix is usually one is to one but it depends on you how thick or textured you want the outcome to be. 
 MATERIALS: PINK PAISLEE SPRING FLING COLLECTION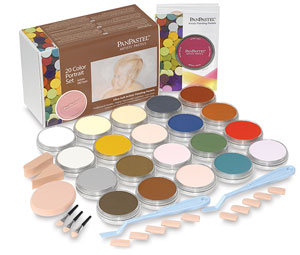 PanPastel colors are made using a unique manufacturing process requiring minimal binder and fillers, resulting in a rich, ultra soft, low-dust formulation. These professional quality colors are highly pigmented and have excellent lightfastness. They are erasable and fully compatible with traditional pastel sticks, pastel surfaces, and conventional fixatives. They can be mixed, blended, layered, and applied like paint for an infinite palette of colors. With PanPastel, it is possible to create more painterly effects. Currently at 22 to 38% off. Click on the image above.
Here is another example of a background created using stencils and Pan Pastels. There are several sets you can choose from but I went with the 20 pc. Painting Set, and the 20 pc. Tints set. It's the perfect combination of brights and tints for me.
MATERIALS: BAZZIL BASICS AND SIMPLE STORIES
To set the pastels, I simply mist over it using some clear metallic mist. So you get a clear coat over it with a bit of shimmer. I love the results.
NOTE: ALL CHIPBOARDS ARE LASERCUT HIGH QUALITY PIECES FROM DUSTY ATTIC
If you came here from the blog of the amazing ASHLEY HORTON then you are in the right track. The next stop is PAPER CRAFTS CORNER.
NOW HERE IS THE COMPLETE BLOG HOP LIST (IN CASE YOU GET LOST ALONG THE WAY)
ENJOY THE HOP AND MAKE SURE YOU GRAB A COPY OF THIS NEW MIXED MEDIA ISSUE! 
Want to win a copy of Mixed Media Scrapbooking of your own? Leave a comment here on what type of mixed media technique you would like to see more of and I will draw a random winner on July 23, 2012. Please be sure to include your email address. I will get in touch with you by email. If I don't receive any reply within one week then I will have to draw another winner.
Thanks for your visit!
By the way if you have anything you would like to ask me about my post above, please feel free to leave a comment here and I'll be sure to reply. So you can check back in a few days. 
Iris